Please forgive our self-satisfaction for this is our boasting page! 

Here you will find a few of the kind and helpful comments we have received from our customers in the last few years:
From Siobhan, 16th May 2020: 
Hey Rachel, Your customer service is excellent! New camera received this morning, it's working perfectly and we're now installing it up a ladder to focus on the original box. Thank you so much for putting the camera in another box for us. One less problem to solve! Notwithstanding the fact that the original camera went on the blink, we think you are a very efficient and delightful company to deal with (and you can use that on your review page!).



From Steven early May 2020:

Hi got a webcambox for my birthday best present I ever had quality amazing ( just wish I moved camera a tad to the back ).  Your bird box has helped me through being in house for 6 weeks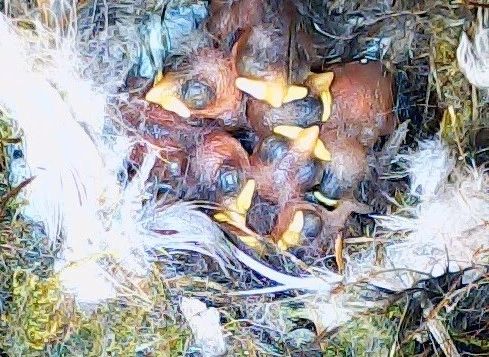 From Derek, late April 2020 (during the Covid19 lockdown)
Hi, I just want to say what a pleasure it is watching the pictures from our bird box! My wife bought the box from you for my birthday last year and I have to admit I was sceptical whether it would "work".
I made sure it was installed above my window and that it worked. Lo and behold at the start of this month we watched a pair of blue tits get interested, then build a nest and now "Maureen" is sitting on 6 eggs, due to hatch we think middle of May. We see "Maurice" bringing in food for her and she occasionally gets out for short periods It is fascinating!!
Photos have been sent by e mail even to our son and family in Sydney, Australia, and they too are waiting with breath held for the big day! Thank you, it has been a wonderful escape from the lockdown situation and I am sure will continue to be so.  Here are Maureen's eggs: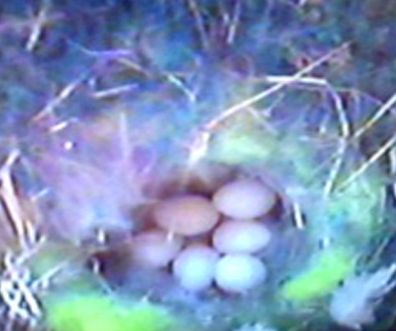 From Mat & Claire, January 2020
Was gifted the box at Christmas and installed without delay.  Superb quality !!!  Been blessed today with our first visitors.   Shortly after both appeared in the box and have been on many viewings.  Please feel free to share.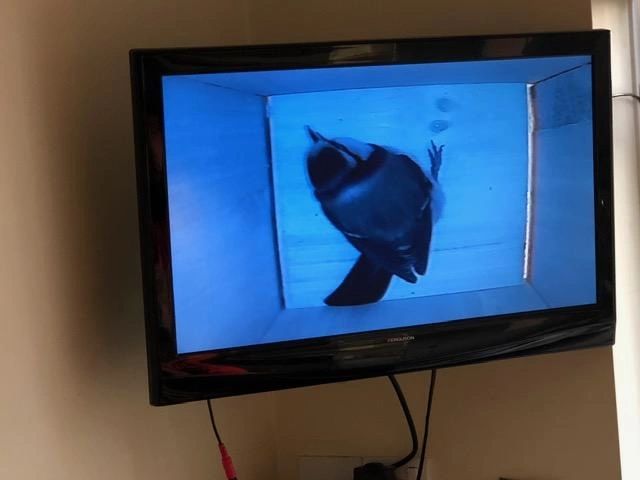 From J King, January 2019

Can I just say that your customer service is outstanding, having run a service based company before I retired it is so cheering to find a company with such an excellent service commitment so a very BIG THANK YOU.
From S Garford, January 2018

This is absolutely FANTASTIC. I am SO impressed. I ordered it yesterday soon after 1pm and it arrived this morning about an hour ago. I have followed all the instructions and it is in place outside and I have an excellent clear picture on my laptop of the inside. Literally set up in under an hour. From placing an order to viewing on my laptop withing 22 hours!! For the excellent price there is NOTHING to fault. I read all the description and thought carefully about where I would be able to place it before placing an order. I already have appropriate capture software on my laptop so that made getting going with this even quicker for me. I CAN'T WAIT for the birds to find it! As it's in a place very close to where birds nested last year I'm hopeful.... Thank you seller for providing a brilliant product at a great price with SUCH excellent service! (You deserve 10 stars **********!)
From P Parker, January 2018
Thank you for your prompt reply to my earlier email regarding the defective camera, we will dispose of it.  I must say your customer service is second to none and dealt with my enquiry with the utmost professionalism. Thank you again.  All we need to do now is to get ready for the coming nesting season.
From M Sainsbury, May 2017
Thank you so much for your excellent level of customer service. You really couldn't have been more helpful and polite and I will be highly recommending your business in the future.
Many thanks again
.

From L P Jones, April 2017
Many thanks for your prompt response to our email. The replacements were received on Saturday and it turned out to be the camera. After a bit of discussion and planning, the camera was changed on Sunday and parent birds have continued feeding thank goodness.  Once again our thanks to you.

From H Crane, April 2017
I would just like to say thank you for the brilliant service you have offered us over the last week or so. The camera replacement arrived Friday lunchtime, wondering what to do next, I Installed the camera Friday evening and within the next few hours the blue tits were in the box laying there eggs. Currently we have 6 eggs that we can see perfectly on our computer.   Thanks again. Harry

From Malcolm, January 2017
Thank you that was quick posted Saturday, thank you for your cooperation you've been brilliant, it hasn't put me off recommending you or using you, you responded with a phone call and helped to sort the return of the box, Hayley felt awful but knows we might be old but young in our ways!

From C Wilkinson, January 2017
Thank you for the replacement cable.  Everything now up and running = just waiting for the birds. 

Have had Great Tits in the defunct box for the past six years, now hoping for more success with your new box.
Reception on your box much better and more reliable than the wireless system I had before.
Once again, thanks for a super service.


From K Marsden, January 2017
Many thanks both for your fast response and action. Super customer service.

From Rob of the African Conservation Experience, January 2017
Hi Rachel, It is good to know that you take note of feedback to improve service to your customers.  The sign of a good company!
From Kevin, December 2015
Hi the order arrived today, just wanted to say thank you for a great service and communication.
From Mr Cowie, November 2015
Many thanks for sorting out promptly and with no fuss - customer service often comes over best with how you deal with problems, and you have passed with flying colours!! Thanks, Andy

From Mr Branker, Amazon customer, 2014
I just wanted to thank you for the super speedy delivery of the bird box.  I only placed the order yesterday morning and received it today. Its a perfect Christmas present for my husband... I thought it would arrive after Christmas due to my late purchase.  Thanks again and wishing you a Merry Christmas and Happy New Year.
From M Davies, June 2012
I just have to say what amazing service from you. I only posted the original back to you yesterday but I have already received the new one . I really want to leave feedback somewhere for you. Please let me know when you have received the original. Thank you so very very much, Marilyn

See our nestboxes featured at: Best Bird Box Cameras reviewed by UpGardener